Thursday, December 02, 2010
Yahoo! Clues: A New Source for Search Data
by Greg R. Notess
Yes, Yahoo! now uses Microsoft's Bing to power its web searching, but the company continues to make the case that it will continue to innovate in web search. Yahoo! has been adding new features and interfaces to a variety of its search products. One recent example is Yahoo! Clues, which launched in mid-November 2010. While it is just in beta and in its early stages, Clues offer unique information not readily available from other sources.
Journalism Online's Press+ to Launch on College Newspapers
Press+, the e-commerce platform created by Journalism Online that enables digital news publishers to collect revenue from readers, announced that it is adding services aimed at helping college newspapers generate income from avid off-campus readers, such as alumni and parents.
Reed Tech Introduces Web Archiving Service
Reed Technology and Information Services, a member of the LexisNexis Group, is introducing Reed Tech Web Archiving Services powered by Iterasi. The comprehensive web archiving service will help corporations, government, and professional services firms capture and preserve web-based content to support the growing need for litigation protection, e-discovery, and compliance with various laws and regulations.
FCC Proposes Rules for Free and Open Internet
In his Dec. 1 post , Julius Genachowski, chairman of the Federal Communications Commission (FCC), offered a progress report on the state of the internet: "After months of hard work we have reached an important milestone in the fight to protect a free and open Internet for all Americans. Today, the FCC proposed basic rules of the road to preserve the open Internet as a platform for innovation, investment, job creation, competition, and free expression."
News and Trends We Could Do Without
by Paula J. Hane
At this time of year, I watch closely for the usual year-end wrap-ups and trend watch articles, though I keep an eye open all year for evidence of emergent trends in the seemingly endless tide of industry news. As usual, the trends seem to present an interesting mix of opportunities and challenges. In this fast-paced, increasingly online world, things are certainly never dull. Lately, I've run across some news items and trends that I feel we could do without. Note that these are my personal comments—no reflection on Information Today, Inc.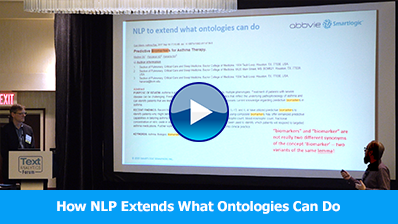 How NLP Extends What Ontologies Can Do (4:42)
AbbVie's Jon Stevens explains how natural-language processing makes ontologies more reflective of nuance in subject-specific language in this clip from Text Analytics Forum 2019.

CLOSED CAPTIONING IS AVAILABLE.
Web of Deceit
Edited by Anne P. Mintz


In this eye-opening follow-up to her popular 2002 book, Web of Deception, Anne P. Mintz brings together a team of expert researchers, journalists, and subject experts to explain how misinformation is intentionally spread and to illuminate the dangers in a range of critical areas.

Web of Deceit is a must-read for any internet user who wants to avoid being victimized by liars, thieves, and propagandists in the age of ubiquitous social media.

2012 | 224pp softbound | ISBN 978-0-910965-91-0
Regular Price: $29.95 | Web Orders: $26.95
If you regularly read blogs, add these to your reader:
ITI Conference Blog – libconf.com – covering ITI's library conferences worldwide.
ILI365/InfoToday Europe Blog – infotoday.eu – news and ideas for, and by, innovative info pros from around the world, throughout the year.
Streaming Media Blog – www.streamingmedia.com/Articles/Blog – the go-to destination for opinion, analysis, and insights into the entire online video ecosystem, from glass to glass.