Thursday, November 04, 2010
GPO Federates Federal Government Catalogs—GPO MetaLib
by Peggy Garvin
Sometimes a product has been coming down the road for so long that we are caught by surprise when it finally arrives. This is the case with GPO MetaLib, a new federated search service from the U.S. Government Printing Office (GPO). Announced in October 2010, GPO MetaLib has been in the agency's plans since it began transition to a new Integrated Library System (ILS) more than 5 years ago. GPO MetaLib uses the federated search solution from Ex Libris Group that goes by the brand name MetaLib. Why MetaLib? In 2004, GPO selected the Ex Libris product ALEPH for its ILS, and MetaLib is part of GPO's ILS package.
ebrary Launches Ebook Ordering System
To help libraries acquire, manage, and distribute ebooks more affordably and efficiently from leading publishers, ebrary announced that it has launched a new ordering system with instant fulfillment and real-time collection management. ebrary now lets librarians select and acquire titles under multiple models—subscription, perpetual access, and patron driven acquisition (PDA)—and make them instantly discoverable and accessible to end-users. ebrary's latest ordering system also includes sophisticated tools that support the acquisition workflow including fund codes, de-duplication for electronic titles, and profiles that can be created and updated by the library at any time, with automatic alerts as new titles become available.
Gilbane Group Report Reveals Publishers' Digital Realities
A new report by the The Gilbane Group, and sponsored by Aptara, titled "A Blueprint for Book Publishing Transformation: Seven Essential Processes to Re-Invent Publishing," explores the book publishing industry and reveals how leading publishers are modifying their businesses to adjust to the realities of today's digital and mobile-centric society.
University of Pittsburgh Library System Joins HathiTrust
The University of Pittsburgh Library System (ULS) became the latest member of HathiTrust, a partnership of major academic and research libraries collaborating in a digital library initiative to preserve and provide access to the published record in digital form. The ULS is contributing thousands of volumes, the result of more than a decade of digitization efforts. Among the contributions are many works from the Darlington Library, the first major library collection donated to the University of Pittsburgh; volumes from the library's extensive collection of 19th century schoolbooks; and theses and dissertations from the university's degree programs.
HTML5-Powered E-Readers for the Browser
by Paula J. Hane
Starbucks recently announced the launch of its Starbucks Digital Network, in partnership with Yahoo! The offer of free Wi-Fi in its U.S. stores caught my eye, but I was even more interested in the free content (some normally subscription-based), which was billed as a "collection of hand-picked premium news, entertainment, and lifestyle content along with local insights and events." But wait, there was even more hidden in the press release: There were free ebooks from major publishers, courtesy of the Bookish Reading Club and New Word City. But here's the sentence that propelled me to investigate this matter further for this article: "A new HTML5 reader, powered by SkyShelf from LibreDigital, allows customers to read books in the browser on their laptops, tablets and many smartphones."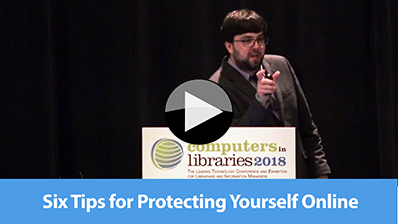 Six Tips for Protecting Yourself Online (3:23)
Evolve Project Director of Strategic Innovation Brian Pichman explains how to shore up your personal cybersecurity in this clip from Computers in Libraries 2018.
Find It Fast, 6th Edition
Extracting Expert Information from Social Networks, Big Data, Tweets, and More
by Robert Berkman

In Find It Fast, business research guru Robert Berkman gives expert advice on how to locate the best information sources, how to find and utilize the professionals behind those sources, and how to combine expert techniques to do fast and effective research on any subject.

You'll find practical guidance on such subjects as how to know if a site is a trusted source; understanding how and why sources differ; using precision search strategies and taming information overload; and finding, evaluating, and interviewing experts. Whether you are looking for consumer information, data for a job or project, facts for starting a new business, or an answer to an obscure question, Find It Fast will help you find it. Fast!

2015/336 pp softbound | ISBN 978-1-937290-04-7
Regular Price: $24.95 | Web Orders: $22.45
CONFERENCE CALENDAR
Nov. 13, Sports Streaming Summit
Place: Huntington Beach, Calif.
Sponsor/Organizer: Information Today, Inc.
URL: streamingmedia.com/Conferences/West2018/Sports.aspx
Nov. 13–14, OTT Leadership Summit
Place: Huntington Beach, Calif.
Sponsor/Organizer: Information Today, Inc.
URL: streamingmedia.com/Conferences/West2018/OTTSummit.aspx
Nov. 13–14, Video Engineering Summit
Place: Huntington Beach, Calif.
Sponsor/Organizer: Information Today, Inc.
URL: streamingmedia.com/Conferences/West2018/VES.aspx
Nov. 13–14, eBook Management: What Works, What Doesn't (ALCTS e-Forum)
Place: Online only
Sponsor/Organizer: Association for Library Collections and Technical Services (ALCTS)
URL: ala.org/alcts/confevents/upcoming/e-forum/111318
Nov. 13–14, Live Streaming Summit
Place: Huntington Beach, Calif.
Sponsor/Organizer: Information Today, Inc.
URL: streamingmedia.com/Conferences/West2018/livestreamingsummit.aspx
Nov. 13–14, Streaming Media West
Place: Huntington Beach, Calif.
Sponsor/Organizer: Information Today, Inc.
URL: streamingmedia.com/Conferences/west2018
Nov. 13–15, International Internet Preservation Consortium (IIPC) Web Archiving Conference 2018
Place: Wellington, New Zealand
Sponsor/Organizer: International Internet Preservation Consortium (IIPC)
URL: netpreserve.org/ga2018
Nov. 14–15, 2018 Library Marketing and Communications Conference (LMCC)
Place: St. Louis, Mo.
Sponsor/Organizer: Library Marketing Conference Group (LMCG)
URL: librarymarketingconference.org/lmcc-2018-announcements
Nov. 14–17, The 1st International Children's Libraries Symposium
Place: Urgup, Turkey
Sponsor/Organizer: University of Marmara, Department of Information and Records Management; Ministry of Culture and Tourism Libraries and Publications General Directorate
URL: childrenslibraries.org
Nov. 17–20, The 18th IEEE International Conference on Data Mining (ICDM 2018)
Place: Singapore
Sponsor/Organizer: Organizing Committee
URL: icdm2018.org
Nov. 29–Dec. 1, International Conference on Digital Transformation (ICDT 2018)
Place: Delhi, India
Sponsor/Organizer: Organizing Committee
URL: ifla.org/files/assets/asia-and-oceania/news/icdt_confernece_brochure_19-09-2018.pdf
If you regularly read blogs, add these to your reader:
ITI Conference Blog – libconf.com – covering ITI's library conferences worldwide.
ILI365/InfoToday Europe Blog – infotoday.eu – news and ideas for, and by, innovative info pros from around the world, throughout the year.

destinationCRM Blog – destinationcrmblog.com – a blog from the editors of CRM magazine, dedicated to providing Customer Relationship Management information in a timely manner to connect decision makers and providers.
SpeechTech Blog – speechtechblog.com – updates on speech technology and its applications in daily life, covering everything from ASR to VUI, with lots of links, threads, and even a few pictures thrown in for good measure.