Thursday, September 02, 2010
Presto Makes Inmagic With 3.5 Release
by Theresa Cramer
Social. Social. Social. It seems that no matter where you turn these days someone is trying to make social media tools work for them. Enterprises are no different. As employees get more and more familiar with these tools in their personal lives, they expect to put them to use for business purposes And many companies are jumping at the chance to fill the void and provide tools for these companies. One such company is Inmagic (www.inmagic.com). With the recent 3.5 release of Presto—its application that enables nontechnical business users to create and manage what it calls KnowledgeNets—the company hopes to bring more functionality to the place where content meets people in enterprises.
BNA Releases the First of Its New Resource Centers
BNA (The Bureau of National Affairs, Inc.) launched the first of a series of new practice area platforms, integrating the full breadth of its industry leading news, analysis, and reference content in one place. BNA Labor & Employment Law Resource Center is available now and serves as an easy-to-use, single point of access for BNA's exclusive content.
IBM and the EU Collaborate on Digitization of Historic European Texts
IBM and the EU unveiled a new initiative called IMPACT (IMProving ACcess to Text). The project is designed to provide technology that will enable highly accurate digitization of rare and culturally significant historical texts on a massive scale. It will use "crowd computing" to verify and correct OCRed text.
SAGE Competes Migration to Next Generation SAGE Journals Online
SAGE announced that, with the support of HighWire 2.0 (H20) technology, it has completed the migration of its 560-plus journals to the next generation of SAGE Journals Online. To mark the successful migration, SAGE is offering a 6-week free trial to SAGE Journals Online from Sept. 1 until Oct. 15. Some enhancements included with this latest iteration of SAGE Journals Online include advanced search across more than 50 disciplines, pop-up previews of article abstracts, and the ability to hide certain features (such as author affiliations and related links) from view.
Free Collaborative Learning Tools for Science—Spotlight on Scitable
by Paula J. Hane
As Scott Merrill wrote on CrunchGear, "Social networks are a dime a dozen." He pointed out that many fail and many are just for specific niche audiences (though I don't think niches are a bad thing). So, he was as skeptical as I was about Scitable, a social network for science research and education from Nature Publishing Group, publishers of Nature and Scientific American. I was especially leery given the recent turmoil over licensing discussions between NPG and the University of California. (They recently issued a joint statement agreeing to work together to address the "mutual short- and long-term challenges.") Scitable is an educational website offered by Nature Education (a division of NPG) for biology and genetics educators and undergraduate students, and it provides a free library of high-quality, vetted content and tools. The company just announced the launch of the mobile version of Scitable.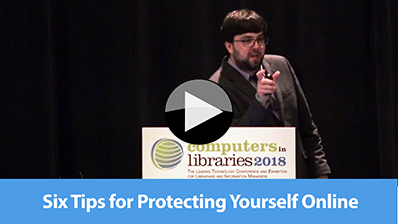 Six Tips for Protecting Yourself Online (3:23)
Evolve Project Director of Strategic Innovation Brian Pichman explains how to shore up your personal cybersecurity in this clip from Computers in Libraries 2018.
Find It Fast, 6th Edition
Extracting Expert Information from Social Networks, Big Data, Tweets, and More
by Robert Berkman

In Find It Fast, business research guru Robert Berkman gives expert advice on how to locate the best information sources, how to find and utilize the professionals behind those sources, and how to combine expert techniques to do fast and effective research on any subject.

You'll find practical guidance on such subjects as how to know if a site is a trusted source; understanding how and why sources differ; using precision search strategies and taming information overload; and finding, evaluating, and interviewing experts. Whether you are looking for consumer information, data for a job or project, facts for starting a new business, or an answer to an obscure question, Find It Fast will help you find it. Fast!

2015/336 pp softbound | ISBN 978-1-937290-04-7
Regular Price: $24.95 | Web Orders: $22.45
CONFERENCE CALENDAR
Nov. 13, Sports Streaming Summit
Place: Huntington Beach, Calif.
Sponsor/Organizer: Information Today, Inc.
URL: streamingmedia.com/Conferences/West2018/Sports.aspx
Nov. 13–14, OTT Leadership Summit
Place: Huntington Beach, Calif.
Sponsor/Organizer: Information Today, Inc.
URL: streamingmedia.com/Conferences/West2018/OTTSummit.aspx
Nov. 13–14, Video Engineering Summit
Place: Huntington Beach, Calif.
Sponsor/Organizer: Information Today, Inc.
URL: streamingmedia.com/Conferences/West2018/VES.aspx
Nov. 13–14, eBook Management: What Works, What Doesn't (ALCTS e-Forum)
Place: Online only
Sponsor/Organizer: Association for Library Collections and Technical Services (ALCTS)
URL: ala.org/alcts/confevents/upcoming/e-forum/111318
Nov. 13–14, Live Streaming Summit
Place: Huntington Beach, Calif.
Sponsor/Organizer: Information Today, Inc.
URL: streamingmedia.com/Conferences/West2018/livestreamingsummit.aspx
Nov. 13–14, Streaming Media West
Place: Huntington Beach, Calif.
Sponsor/Organizer: Information Today, Inc.
URL: streamingmedia.com/Conferences/west2018
Nov. 13–15, International Internet Preservation Consortium (IIPC) Web Archiving Conference 2018
Place: Wellington, New Zealand
Sponsor/Organizer: International Internet Preservation Consortium (IIPC)
URL: netpreserve.org/ga2018
Nov. 14–15, 2018 Library Marketing and Communications Conference (LMCC)
Place: St. Louis, Mo.
Sponsor/Organizer: Library Marketing Conference Group (LMCG)
URL: librarymarketingconference.org/lmcc-2018-announcements
Nov. 14–17, The 1st International Children's Libraries Symposium
Place: Urgup, Turkey
Sponsor/Organizer: University of Marmara, Department of Information and Records Management; Ministry of Culture and Tourism Libraries and Publications General Directorate
URL: childrenslibraries.org
Nov. 17–20, The 18th IEEE International Conference on Data Mining (ICDM 2018)
Place: Singapore
Sponsor/Organizer: Organizing Committee
URL: icdm2018.org
Nov. 29–Dec. 1, International Conference on Digital Transformation (ICDT 2018)
Place: Delhi, India
Sponsor/Organizer: Organizing Committee
URL: ifla.org/files/assets/asia-and-oceania/news/icdt_confernece_brochure_19-09-2018.pdf
If you regularly read blogs, add these to your reader:
ITI Conference Blog – libconf.com – covering ITI's library conferences worldwide.
ILI365/InfoToday Europe Blog – infotoday.eu – news and ideas for, and by, innovative info pros from around the world, throughout the year.

destinationCRM Blog – destinationcrmblog.com – a blog from the editors of CRM magazine, dedicated to providing Customer Relationship Management information in a timely manner to connect decision makers and providers.
SpeechTech Blog – speechtechblog.com – updates on speech technology and its applications in daily life, covering everything from ASR to VUI, with lots of links, threads, and even a few pictures thrown in for good measure.