Network Neutrality in Play Again
by Wallace Koehler
Network neutrality—or Net Neutrality as it's often called—is making news again. In the first week of August 2010, Google, one of the largest of the content providers, and Verizon, a major communications carrier, proposed a seven-part set of policies to manage the internet, "A joint policy proposal for an open internet" (http://googlepublicpolicy.blogspot.com/2010/08/joint-policy-proposal-for-open-internet.html). Perhaps the most controversial of these is an option to establish "differentiated online services"; in a word, a structured or tiered fee structure for priority information transmission. There is a second and equally important component to the debate. Given changes in technology and the emergence of the wireless internet, are there fundamental differences between the wireless and wired internet? And if so, are there different philosophical and technical and therefore different regulatory regimes for the wired and wireless internet? A distinction has already been made between "traditional" communications (telephony, broadcast radio, and television) and the various information services provided over the internet (WWW, ftp, email, VoIP, etc). Are there further distinctions to be drawn between the wired and wireless internet?
Convert to RFID Tags With Tech Logic's uTagIT
Libraries converting their collection from bar code labels to RFID tags now have a portable, convenient, and cost effective solution: Tech Logic's (www.tech-logic.com) new uTagIT tagging system. uTagIT is a portable, compact solution for libraries, meeting their on-demand RFID tagging needs. The uTagIT system provides the convenience and ease of use to encode bar code numbers onto RFID tags. The uTagIT system streamlines the conversion process, allowing library staff to efficiently tag the library's entire collection.
OCLC Announced Enhanced WorldCat Digital Collection Gateway
Repository managers from libraries, museums, archives, and other cultural heritage and research institutions can now contribute metadata records for digital materials to WorldCat using the new, enhanced WorldCat Digital Collection Gateway (www.oclc.org/gateway), increasing visibility and accessibility of special collections, institutional repositories, and other unique digital content to web searchers worldwide.
ebrary Offers Free Ebook Collection on Cyber Bullying
According to the National Crime Prevention Council, 43% of teens have been the victims of cyber bullying in the past year. To help parents, educators, and others better understand, prevent, and take action against this growing concern, ebrary is offering a free open access collection of ebooks on Cyber Bullying. ebrary will also enable other organizations to contribute materials as long as they have copyrights.
Digital Lending Goes into OverDrive
by Paula J. Hane
I'd been hearing some buzz this summer about various improvements made by OverDrive to its services for libraries—more content, mobile apps, simplified procedures, etc. OverDrive is a full-service digital distributor of ebooks, audiobooks, music, and video that first launched its online digital warehouse in 2000. So, I caught up with the company's vice president of marketing, David Burleigh, for an extended conversation on what's new and what's coming. While OverDrive offers publishers a secure, web-based, wholesale distribution service for the sale and delivery of digital media, I didn't get into the details of that side of the business. Our discussion focused on what OverDrive offers libraries and their patrons.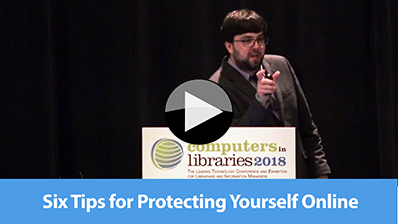 Six Tips for Protecting Yourself Online (3:23)
Evolve Project Director of Strategic Innovation Brian Pichman explains how to shore up your personal cybersecurity in this clip from Computers in Libraries 2018.
Find It Fast, 6th Edition
Extracting Expert Information from Social Networks, Big Data, Tweets, and More
by Robert Berkman

In Find It Fast, business research guru Robert Berkman gives expert advice on how to locate the best information sources, how to find and utilize the professionals behind those sources, and how to combine expert techniques to do fast and effective research on any subject.

You'll find practical guidance on such subjects as how to know if a site is a trusted source; understanding how and why sources differ; using precision search strategies and taming information overload; and finding, evaluating, and interviewing experts. Whether you are looking for consumer information, data for a job or project, facts for starting a new business, or an answer to an obscure question, Find It Fast will help you find it. Fast!

2015/336 pp softbound | ISBN 978-1-937290-04-7
Regular Price: $24.95 | Web Orders: $22.45
CONFERENCE CALENDAR
Nov. 13, Sports Streaming Summit
Place: Huntington Beach, Calif.
Sponsor/Organizer: Information Today, Inc.
URL: streamingmedia.com/Conferences/West2018/Sports.aspx
Nov. 13–14, OTT Leadership Summit
Place: Huntington Beach, Calif.
Sponsor/Organizer: Information Today, Inc.
URL: streamingmedia.com/Conferences/West2018/OTTSummit.aspx
Nov. 13–14, Video Engineering Summit
Place: Huntington Beach, Calif.
Sponsor/Organizer: Information Today, Inc.
URL: streamingmedia.com/Conferences/West2018/VES.aspx
Nov. 13–14, eBook Management: What Works, What Doesn't (ALCTS e-Forum)
Place: Online only
Sponsor/Organizer: Association for Library Collections and Technical Services (ALCTS)
URL: ala.org/alcts/confevents/upcoming/e-forum/111318
Nov. 13–14, Live Streaming Summit
Place: Huntington Beach, Calif.
Sponsor/Organizer: Information Today, Inc.
URL: streamingmedia.com/Conferences/West2018/livestreamingsummit.aspx
Nov. 13–14, Streaming Media West
Place: Huntington Beach, Calif.
Sponsor/Organizer: Information Today, Inc.
URL: streamingmedia.com/Conferences/west2018
Nov. 13–15, International Internet Preservation Consortium (IIPC) Web Archiving Conference 2018
Place: Wellington, New Zealand
Sponsor/Organizer: International Internet Preservation Consortium (IIPC)
URL: netpreserve.org/ga2018
Nov. 14–15, 2018 Library Marketing and Communications Conference (LMCC)
Place: St. Louis, Mo.
Sponsor/Organizer: Library Marketing Conference Group (LMCG)
URL: librarymarketingconference.org/lmcc-2018-announcements
Nov. 14–17, The 1st International Children's Libraries Symposium
Place: Urgup, Turkey
Sponsor/Organizer: University of Marmara, Department of Information and Records Management; Ministry of Culture and Tourism Libraries and Publications General Directorate
URL: childrenslibraries.org
Nov. 17–20, The 18th IEEE International Conference on Data Mining (ICDM 2018)
Place: Singapore
Sponsor/Organizer: Organizing Committee
URL: icdm2018.org
Nov. 29–Dec. 1, International Conference on Digital Transformation (ICDT 2018)
Place: Delhi, India
Sponsor/Organizer: Organizing Committee
URL: ifla.org/files/assets/asia-and-oceania/news/icdt_confernece_brochure_19-09-2018.pdf
If you regularly read blogs, add these to your reader:
ITI Conference Blog – libconf.com – covering ITI's library conferences worldwide.
ILI365/InfoToday Europe Blog – infotoday.eu – news and ideas for, and by, innovative info pros from around the world, throughout the year.

destinationCRM Blog – destinationcrmblog.com – a blog from the editors of CRM magazine, dedicated to providing Customer Relationship Management information in a timely manner to connect decision makers and providers.
SpeechTech Blog – speechtechblog.com – updates on speech technology and its applications in daily life, covering everything from ASR to VUI, with lots of links, threads, and even a few pictures thrown in for good measure.