SkyRiver and Innovative Interfaces File Antitrust Suit Against OCLC
by Edward M. Corrado
SkyRiver Technology Solutions (http://theskyriver.com) filed a complaint for Federal and State antitrust violations and unfair competition against OCLC (http://www.oclc.org) in United States District Court, Northern Division of California on July 28. The suit [1] alleges that OCLC is "unlawfully monopolizing the bibliographic data, cataloging service and interlibrary lending markets and is attempting to monopolize the market for integrated library systems by anticompetitive and exclusionary agreements, policies and practices." Innovative Interfaces, Inc. (http://www.iii.com) is listed as a co-plaintiff. OCLC released a statement on July 29 saying that it hadn't reviewed the complaint yet and after it reviews the complaint and "have had an opportunity to review the allegations with its legal counsel, a statement in response will be forthcoming." This suit could have major implications in the library software and technology services industry. If the suit is successful, OCLC may have to provide for-profit firms access to the WorldCat database and there could be implications for OCLC's status as a non-profit cooperative.
SwetsWise 5.5 Goes Live
Swets (http://www.swets.com), a subscription services company announced the successful launch and implementation of SwetsWise Release 5.5, the latest technical update to its pioneering portfolio of products and services. This latest update introduces a host of updates and additional functionalities into the platform that will help to simplify the selection and acquisition procedures for both journals and ebooks within SwetsWise and provide additional renewal support features to all customers.
WebWorks Publishing Solution Supports iPad and ePUB Standard
WebWorks (http://www.webworks.com), a brand of Quadralay Corp., announced its enterprise level content conversion tool with built-in support for the Apple iPad and ePUB standard (http://www.idpf.org/). The company says that its ePublisher 2010 Mobile Plus release is the first enterprise solution to support the emerging ePUB standard to create ebooks readable on the newest generation of mobile content devices.
DuraSpace Introduces DuraCloud Open Source
The DuraSpace organization (http://duraspace.org) unveiled the open source code for the new DuraCloud platform (http://duracloud.org), a hosted service and open technology that makes it easy for organizations and end users to use cloud services (https://wiki.duraspace.org/display/duracloud/DuraCloud). DuraCloud is an open source platform that is built upon commercial cloud infrastructure. The platform itself deploys into a cloud server environment and is integrated with multiple cloud storage providers, including Amazon AWS and RackSpace. DuraSpace is making the open source code available to enable the community to create new software and services that integrate with the core platform.
Digital Lending Goes into OverDrive
by Paula J. Hane
I'd been hearing some buzz this summer about various improvements made by OverDrive to its services for libraries—more content, mobile apps, simplified procedures, etc. OverDrive is a full-service digital distributor of ebooks, audiobooks, music, and video that first launched its online digital warehouse in 2000. So, I caught up with the company's vice president of marketing, David Burleigh, for an extended conversation on what's new and what's coming. While OverDrive offers publishers a secure, web-based, wholesale distribution service for the sale and delivery of digital media, I didn't get into the details of that side of the business. Our discussion focused on what OverDrive offers libraries and their patrons.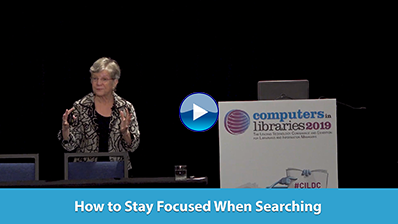 How to Stay Focused When Searching (3:47)
Super-Searcher Mary Ellen Bates of Bates Information Services explains how to separate the incidental from the integral in search in this clip from her presentation at Computers in Libraries 2019.

CLOSED CAPTIONING IS NOW AVAILABLE.
The Carousel Carver
by Perdita Buchan

This evocative historical novel tells the story of Giacinto, who emigrates from Italy in 1912 and becomes a carousel carver during the golden age of the craft in America, and Rosa, the eight-year-old orphan girl thrust into his care.

The Carousel Carver vividly recreates the world of the immigrant carvers—from the inspiration found in fiery horses, big cats, and children's laughter to the clatter, sawdust, and politics of Philadelphia's bustling multicultural workshops. This is an engaging and insightful tale of tolerance, second chances, and what it means for those once adrift to call America home.

May 2019/144 pp/hardcover/ISBN 978-1-940091-04-4
Regular Price $16.95 | Preorder Price $10.17

Trade Paperback | ISBN 978-1-940091-03-7
Regular Price $13.95 | Preorder Price $8.37


The ebook is available from Amazon, Barnes & Noble, and Kobo.
If you regularly read blogs, add these to your reader:
ITI Conference Blog – libconf.com – covering ITI's library conferences worldwide.
ILI365/InfoToday Europe Blog – infotoday.eu – news and ideas for, and by, innovative info pros from around the world, throughout the year.
Streaming Media Blog – www.streamingmedia.com/Articles/Blog – the go-to destination for opinion, analysis, and insights into the entire online video ecosystem, from glass to glass.