Download Our September Editorial Sampler

Posted On September 1, 2015
---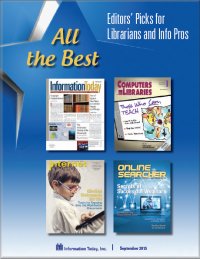 Want to review some articles from our library publications? Download the free September content sampler (PDF) of recent articles and a discount subscription offer for Information Today.

The following content is featured this month:
In Information Today, Brandi Scardilli looks at new developments in the Internet of Things (IoT) arena, including a wearable, a virtual assistant, and a home automation system.
In Computers in Libraries, Loren Turner shares the University of Florida Levin College of Law's experiences with launching its first massive open online course (MOOC).
In Internet@Schools, Mary Ann Bell picks up on a theme she loves and believes in: Librarians need to be seeking ways to bring joy, delight, and good old-fashioned fun to their students and colleagues.
In Online Searcher, Greg Notess explains the importance of expanding into fields outside the usual subject areas and increasing advanced searching expertise in order to build search skills for interdisciplinary research.